Course Design
for Show Jumping
Acuro – a better way to work
Top-notch software for
Course design for Show Jumping
Clear plans to exact scale.
With Acuro you can work more efficient and improve your skills as a course designer. 
Acuro is the only software you need
# Easy to get started, easy to use
# Calculates time allowed
# Measuring distances and course length
# Obstacles by design
# Printouts in any language
# Support and updates
# 3D course plans with a click of a button.
The time allowed and the time limit will be calculated
Measuring
A built-in measuring tool makes it easy to precisely estimate the distance between any two points on the course.
The distances can be measured, and time allowed, and the time limit will be calculated. Scale can be adjusted to get an overview of the entire course, or to zoom into specific detail. The standard setting for measuring is meters if you want you can change this to feet and inches.
Exact scale
Everything that you place on the course will be according to scale, with the correct length and width of the obstacles.
You can even state the desired length of the poles for each obstacle.
Prepared models and plans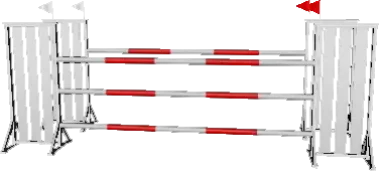 Find ready-made oxers, verticals, walls and waterjumps with more.
The program also includes a set of prepared models. 
You decide the height and length for each jump by clicking or by simply typing in your figures.
If you want to customize the obstacles, you can create your own. Find a Rail and give it the length you want. Create a few in different length and in the 2D scene you can then copy and paste.
For driving, you will find L-Obstacle, Double U, Double L,  a Bridge, cones and more.
Draw and print at the show
You save all your drawings in a file.
When it is time to create a new class, you can use the previous one as a starting point. Just by drag and drop, you can easily move the obstacles into new positions, finding the right lines.
Next time you start you have all the obstacles and details ready for new designs.
With Acuro on your laptop, you can make your last changes and even make new course plans during the show. Save pdf-files to a memory stick and let the show office make the copies required.
You can have different prints for your assistants, for judges, speakers or media.
You can have 3d-images showing the obstacles and the arena. Acuro is the only program in the world with those features. It is a complete program for equestrian course planning.
Tip: PDF-writer/Preview
For print-outs to a file instead of paper, a PDF-writer will be helpful. A free writer we often use can be found at Cute Pdf->
Printing
You can have your course plans with text and information in any language.
Before printing, you can edit the headlines, subheads etc. and choose any text you want to appear on the course plan. 
The working language for Acuro is English, but you can translate the prints to whatever you want.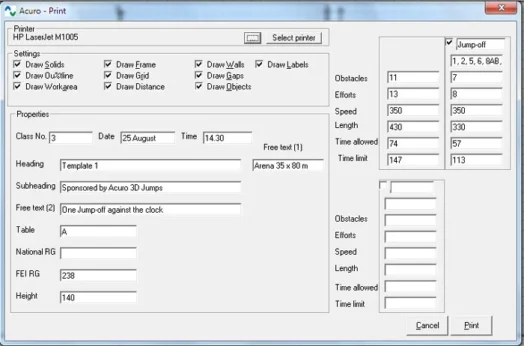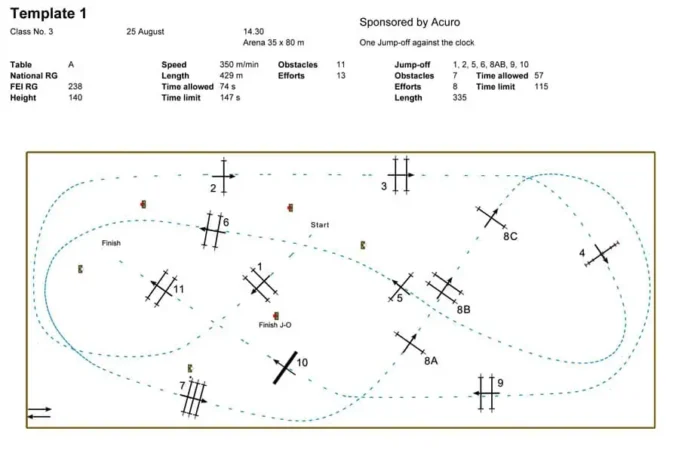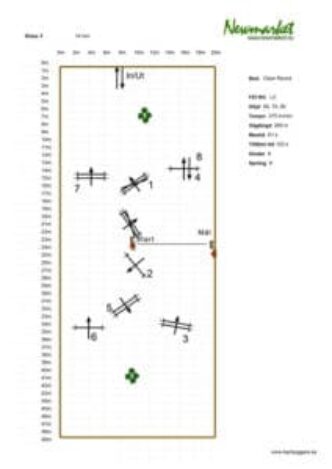 With Acuro you get a user's guide. Acuro is easy to use and there is a very short learning curve.
Looking through the manual will help you to a very smooth start and you will create your course plans within minutes.
Acuro is specifically designed for Course Design for Show Jumping. A complete program.

Don't just listen to us. Here are what people say about Acuro.
A Great Product
Program has been working great!
Easy to use
I use Acuro and think it works great, especially the measurement function that gives precise distances and course length!
The program is easy to use and simplifies my work before and during the shows!
Value for money. Definitely!
It is amazing how fast you can create a course and how easy it is to adjust.
In summary, the investment was worth the money, distributing the plans to people responsible for the actual building of the courses are happy with a clear presentation and know what is expected. 
Great support
I have been using Acuro for several years and I really like it. The program is very easy to use and if needed there is great support. A great product.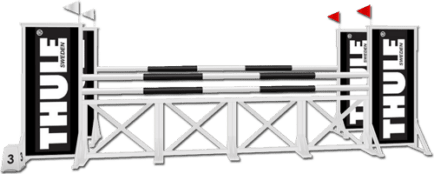 3D design is an option
It is not necessary to consider the 3d features to draw a course plan, but you have all the possibilities as a bonus. No special skills are needed to produce good 3D-pictures, click and drag, and Acuro will do the job for you.
You can have your own designs. You can create good looking 3D sponsor jumps with logotypes and the right colours.
A 3D image of your course and/or the obstacles is a very good way to inform your assistants how you want 
Test, create and have fun.
When you are interested, there are the tools you need for creating and editing sponsor jumps and use customized obstacles in your 3D plans.
Acuro will give you all the plans you need. In traditional 2D and in 3D.  With the mouse, you can "walk the course" direct on your screen.
3D scenes at a click of a button
A real-time 3D scene based on the 2D drawing is generated at the click of a button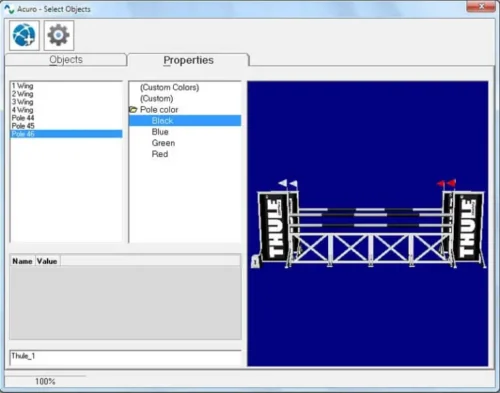 269.00 EURO /  USD 297.00
Full version. One-time-payment.
Support for one year included.
Use credit card and/or PayPal for safe payment.
Order now and you can start with your first designs within minutes.
30-day Totally Risk-Free

If you are dissatisfied with the program for any reason, you will receive a full refund if you inform us within 30 days of your order.
The software license agreement entitles you to install and
activate the program on one (1) PC.
For driving you have the corresponding features. You can find what you need for obstacle driving as well as for marathon.  Some ready-made obstacles and also parts to design precisely the obstacles you want.