Activate
After approx 31 days after opening the program for the first time, you need to activate it.
#1  Start the Acuro program and choose Acuro Activation.
Click on the Arrow and you will find a window with User codes.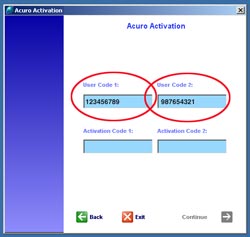 Copy the User codes and fill in the form below.
NOTE 
we work on this manually, and it may take some time before you get an answer. (Possibly different time zones can also affect when we may not have the same working hours.)
We will do our best, and be back to you as soon as possible.